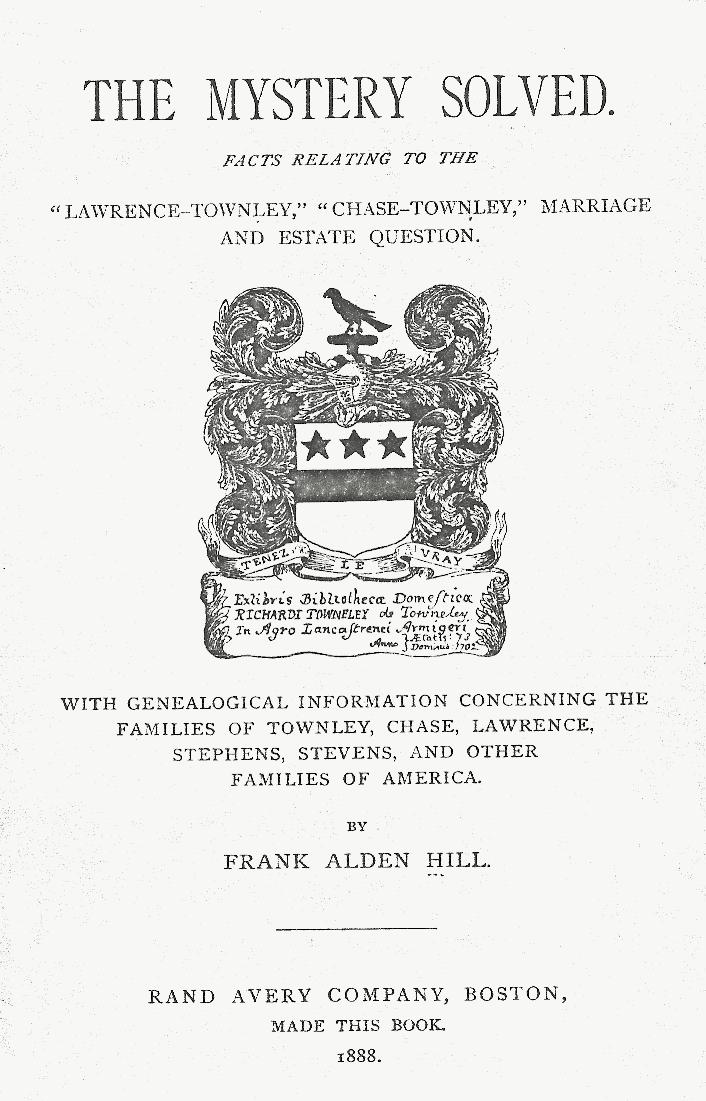 CHAPTER II.

REFERS TO THE GENEALOGIES, TRADITIONS, MEETINGS, AND
ASSOCIATIONS OF THE LAWRENCE, CHASE, AND OTHER FAMILIES.



THE following is the genealogy of one of the Lawrence families, compiled by the descendants of John, William, and Thomas Lawrence of Long Island:

" The first ancestor of this family known was Sir Robert Laurens of Ashton Hall, in Lancashire, England, who flourished in 1191, and received the knighthood from King Richard, also a coat of arms, which is appended to the will of William Lawrence, 1680, and Richard Lawrence, 1711, in the Surrogate's office, New York City. Sir John Lawrence, the ninth in lineal descent from the above Sir Robert Laurens, flourished in 1491. He killed a gentleman usher of King Henry VII., was outlawed, and died in exile in France, issueless, when Ashton Hall and his other estates passed by royal decree to his relations, Lords Monteagle and Girard. Three brothers, John, William and Thomas Lawrence, descended from Sir John Lawrence, emigrated to America. John Lawrence, the eldest, was born in Great St. Albans, Hertfordshire, England, in 1618, came over in the ship Planter, N. Travis, Master, and landed in Plymouth, Mass., in 1635, from whence he went to Long Island, afterwards resided in NewYork, where he held many public positions, and died in 1699, leaving descendants. His will, written in 1698, is on file in the Surrogate's office, New York. William Lawrence, the second brother of John, was born in 1623; in 1635 he came over with John, in the ship Planter, and became the proprietor of Lawrence's Neck (so-called) which stretches into Long Island Sound, between Flushing Bay and Whitestone, about nine hundred acres, a part of which is the present site of St. Paul's College. William Lawrence held many civil and military offices, and died in 1680 leaving numerous descendants. His son Joseph, by his second wife, Elizabeth Smith, daughter of Richard Smith, the patentee of Smithtown, married Mary Townley in 1690. After the death of William Lawrence in 1680, his wife, Elizabeth Smith, married the Hon. Philip Carteret, Governor of New Jersey, in April, 1681, and removed to Elizabethtown with her family. The town was named after Elizabeth Smith.

Philip Carteret died in December, 1682, his widow then returning to Long Island. Thomas Lawrence, the youngest of the three brothers, came to this country after the brothers John and William. In 1655 Thomas and his brothers obtained possession of a tract of land in Newtown, Long Island. Thomas afterwards purchased the whole of Hell-Gate Neck, from Hell-Gate Cove to Bowery Bay. He died in Newtown, in July, 1703, leaving five sons, Thomas, William, John, Daniel and Jonathan, of whom John alone permanently remained at Newtown. A large number of descendants sprung from these brothers, John, Thomas and William. The list is to be found in Thompson's History of Long Island and Holgate's American Genealogy, published by George P. Putnam in 1851. Henry Lawrence was a descendant from Sir John Lawrence, who flourished in 1491,and, therefore, a connection of John, William and Thomas. He was an adherent of Oliver Cromwell, and his picture is seen as President, in Clarendon's history of the Rebellion. His gravestone, not yet effaced, is in the Chapel of St. Margaret, Alias Thele, in Hertfordshire. The coat of arms can be traced on it, viz : -a cross, raguly, gules. The crest, a fish's tail or demi dolphin."




In connection with the above document it is stated, that , Joseph Lawrence (who married Mary Townley, 1690) had as children Elizabeth (married John Bowne, 1714), and Abigail, who married Major Alexander Forbes of the British Army. The descendants of another of the Lawrence families have been given the following history:


The family of Lawrence is traced plausibly to a Robert Lawrence, who settled in Lancashire, and ,vas knighted in 1191 for valorous deeds at the siege of Acre, yet more positively to a sir Robert Lawrence of Ashton Hall, whose marriage to Anna Trofford in 1298 is a matter of public record; and the records of Ashton Hall for a period of four hundred years bring us to a son of the house named John, who married Mary Townley, of Townley Hall. The descendants; of this pair are the heirs officially called for so frequently by the English authorities.


Ashton Hall is situated six miles west of Manchester; is entitled to one member of Parliament, and is remarkable, among other features, for a large church of the time of Henry the Fifth; and the Lawrence family is thus prominent in English history. But the enormous possessions of the Lawrence-Townley family are derived from the wife. Mary Townley was the oldest daughter of Sir Richard Townley and Mary Widdrington, of Widdrington, Northumberland County, of notoriety from his connection with the hero of Chevy Chase, of whom was sung :


" My heart is woe for Widdrington,


As one in doleful dumps ;


For when his legs were smitten off,


He fought upon his stumps."


The Widdrington Estate included many mining properties in Durham County near to New-Castle-upon-Tyne. These, of very great value, were conveyed by will to his daughters, and by marriage. settlement secured to her separate right and were accordingly willed to her two daughters, Mary and Dorothy. The former married, against her father's consent, John Lawrence, who was a Protestant, and socially inferior, doubtless, as he elected to follow the seas. The couple eloped and were married in the English Kirk at the Hague in Holland. As Mary Townley . Lawrence was about to become a mother, she made application to be received at Townley Hall but Sir Richard refused to receive her, and she returned to the ship Highflyer which had brought her from Holland, and of which her husband was the second officer; and on board this ship were born twin sons. The ship put into the port upon the Solway which was nearest to Corby Castle, where her sister Dorothy, who had married Lord Effingham, resided ; and there, at the church of the parish Witherel, to which Corby Castle belonged, the twins were baptized by the names of John and Jonathan. The former together with a sister Mary, subsequently born at the Hague, emigrated with their parents to America in the autumn of 1714, and the family were virtually lost to their English relatives, being in constructive disgrace from the powerful effect of the anger of Sir Richard Townley, of Townley Hall, whose high social position and great wealth added force to his displeasure throughout the circle of his kindred. These emigrants, John and Mary Lawrence, with their son and daughter, were with difficulty followed in their wanderings after their arrival in America, for the reason, chiefly, that the father and son followed the seas and the females would have only such temporary abodes on shore as might suit the coasting expeditions of father and son.

The son, however, eventually found a home at the mature age of 43,in a town not far from Boston, and his marriage is recorded to have taken place November13, 1738. He became conspicuous as an officer commissioned by Governor Shirley, in the French and Indian war, and was rewarded, with others, by his Majesty King George Third, by a grant of five hundred acres of land in Nova Scotia. Upon this grant he settled and there died in 1769. The family history has been traced from him with sufficient authenticity, it is supposed, to justify the institution of legal proceedings, and these have quite recently been commenced. In 1743,or five years after the marriage of Jonathan Lawrence, there culminated several large estates into one- the one now called the Lawrence Townley Estate.

Another of the Lawrence families claims descent from John Lawrence who settled in Watertown, Mass. They have the same general story,viz.:- "That John Lawrence married Mary Townley, ran away to America, etc. " For a full genealogy of this family, see The Genealogy of John Lawrence of Watetown, Mass. (by John Lawrence), printed by Whipple, Boston, 1857. Next in prominence for their efforts is the Chase family, of which the late Chief Justice, Salmon P. Chase, was a member. And as early as 1847 (besides previous efforts in 1830), a lengthy notice appeared in a Baltimore paper, stating that by a decree of the High Court of Chancery, three-fourths of the Townley Estate belonged to William, Thomas, and Aquilla Chase, or descendants, and the remaining one-fourth to another brother, or descendants, whose Christian name the Court was unable to ascertain, This statement was entirely without foundation, as no such decree ever existed. Next we mention the Townley family, a family well known in the Middle and Western States, as well as in the Canadas; and one that has enrolled among its members the names of many prominent citizens. This family have been very enthusiastic in claiming that they were related to Mary Townley of Lancashire, and have spared no effort to prove their claim to be a true one. But without avail. Effingham Townley, of Elizabethtown, New Jersey (deceased),was so confident that the estate in question would fall to him, that he made provision for its distribution in his will to his children. They have family traditions concerning a large Townley Estate in England. besides a correspondence that passed between Richard Townley of New Jersey and Charles Townley, Clarenceux (descendant of Nicholas Townley, deceased, formerly of Littleton House near London). This correspondence was in 1765-6-7-8, and, although the marriage at that time had taken place, it referred in no way to a Mary Townley who left her home and came to America, nor to any estate for the heirs of such a person. Next we mention the Williams family of New Hampshire, who are positive that Sarah Lawrence, who married their ancestor, was the daughter of Mary Townley, who married Joseph Lawrence.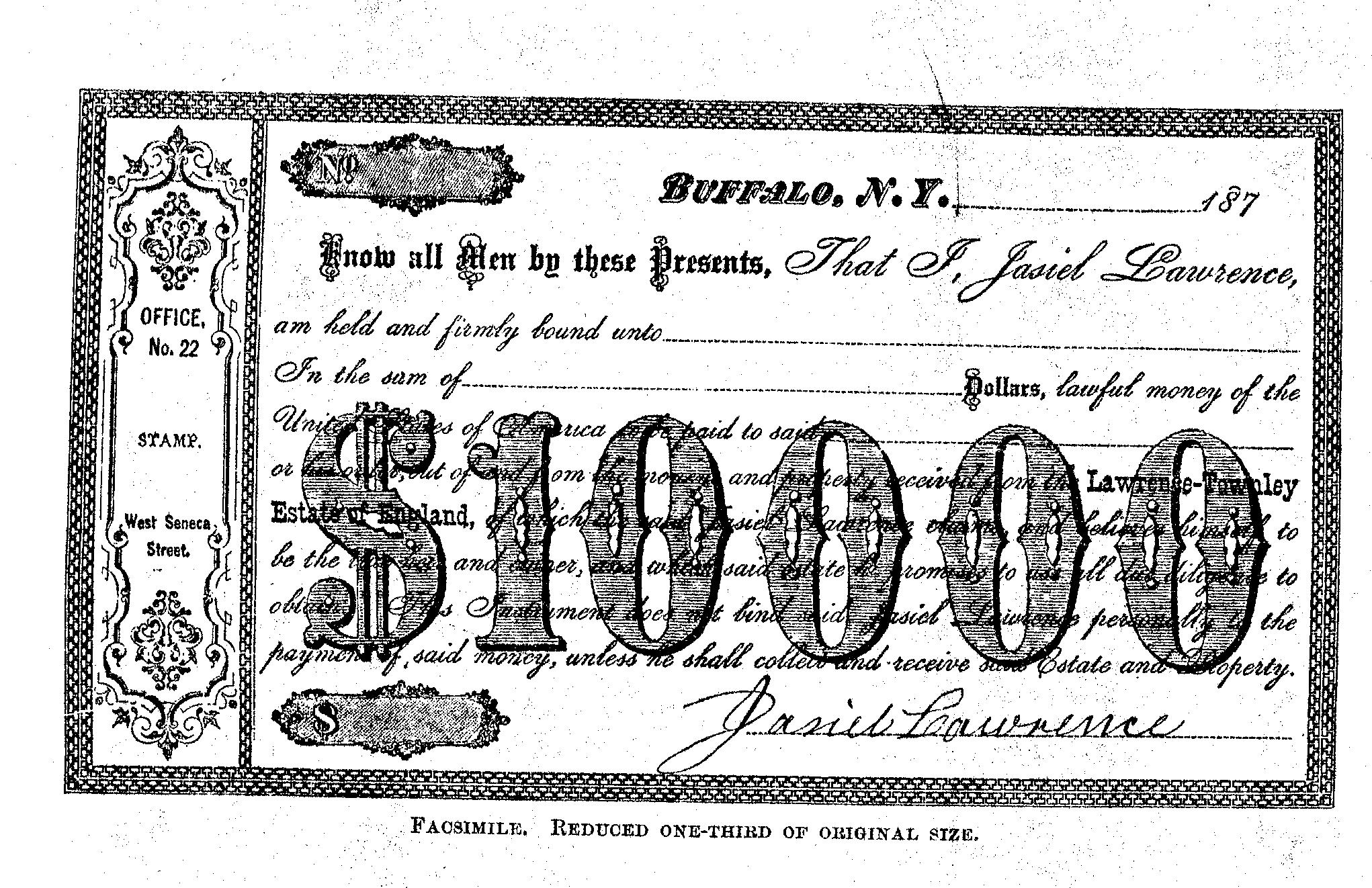 On the back of the bond of Jasiel Lawrence appears the following:

"GENEALOGY, AND DECREE OF CHANCERY"



" It is now certain that Jasiel Lawrence, of Watson, Lewis County, New York, is the SOLE HEIR to the Lawrence Townley Estate. The Lawrence family in different parts of the country have expended large sums of money in investigating their claims to this estate, but in vain, all of them having failed to prove their heirship to this immense fortune, as the pure blood of MARY TOWNLEY, through whom the estate is derived, did not flow in their veins. This Mary Townley was married in England to John Lawrence, the ancestor of the present Jasiel Lawrence. This marriage of John Lawrence and Mary Townley is found in the English Records. They emigrated to this country in 1716. The said John Lawrence, and Mary Townley his wife, had only one son, named Jonathan, who was the great-grandfather of Jasiel Lawrence, the present heir-at-law to this estate. This Jonathan Lawrence married Hannah Robbins, of Walpole, Massachusetts, in 1738, by whom he had two sons, Jonathan, Jr., and William. Jonathan Lawrence, Jr., was the eldest son, next heir to the estate, according to the laws of England. He was born in Walpole, Mass., in 1739. He married Rachael Smith, of Easton, Mass., in 1762. This fact is proved by the town records of Easton, and by other official documents in the possession of the present Jasiel Lawrence. This Jonathan Lawrence, Jr., and Rachael his wife, had two sons, Libbeus and Jasiel. Libbeus was born in Nova Scotia, in 1765, and died in Lansingburgh,N.Y.,in1818, leaving one son, John A. Lawrence, who died in Troy, N.Y., June lOth, 1857, leaving one son, Norman J. Lawrence, who died in 1862, without heirs. He was a soldier in the United States Army, and was shot while driving an ambulance. This closed the line of heirship of Libbeus Lawrence. Jasiel Lawrence, Sr., only brother of Libbeus, was born in Easton, Mass. in 1772,and died at Durhamville, Oneida County, N.Y., in 1842, leaving Jasiel Lawrence, Jr., of Watson, Lewis County, .N.Y., who was born September 30th, 1808, and is the oldest surviving son, and only heir to the estate, according to the law of England.
'The COURT OF CHANCERY of England, ordered by the House of Commons, February 23d, 1865, decided: That The Lawrence-Townley Estate remains unsettled, and as yet subject to a claimant, and there is marked on the Chancery books, -Heirs gone to America. The Court also passed the following decree: That' The Estate belongs to the heirs of Mary Townley, who, having married a Lawrence, settled in America, and her descendants are the legal heirs to the Estate. "

[NOTE. -The above statement is false in every particular. ]



There is still another family who claim Mary Townley as an ancestor, and who say that she married a Herbert. A few of the times and places of meetings of the above families are given below. There was a large gathering of the Townleys of America, at Elizabeth, New Jersey, September 21, 1845, at which time a commission was sent to England. In 1852-3, meetings were held, funds collected, and Columbus Smith, of West Saulsbury, Vermont, and J. B. Price, of Philadelphia, were sent to England as counsel. The report of Columbus Smith, I believe to be truthful, and, as far as his examination proceeded, considering that he was laboring in an entirely wrong direction, I think he accomplished all that the circumstances permitted.

A meeting of the Lawrences was held at the next of kin office of Mr. Hayes, 327 Broadway, and at the Merchants' Hotel, New York, in July, 1857.A large meeting of the heirs of John Lawrence, of Watertown, Mass., was held in Boston, in April, 1855. At the American Hotel, Toronto, Canada West, a large gathering of the claimants was held in April, 1867. A gathering of the possible heirs took place at Middletown, N. Y ., in October, 1877. The above are a few of the many meetings that have been held at different times by the supposed heirs to the Townley estate.

I quote the following from a pamphlet printed with the assent of Mr. Jasiel T. Lawrence: -" Some fifty years ago, in a suit brought by the Lawrences of Boston and vicinity, in the English Court of Chancery, the Court denied the suit as it was found, in the language of the decree, case No.24, 366 :'That the said claimants are not the lawful and lineal descendants of John Lawrence and Mary his wife; and that they are not in the line of descent.' The Ron. Abbott Lawrence and Daniel Webster, the latter in the interest of the Chase family, in its early connection with said estate, have had to do with the inquiries instituted." And from the same source I quote as follows:



" The Opinions of Eminent Lawyers:


"UTICA, N.Y., Aug. 8,1868.

" At the request of Mr. Jasiel Lawrence, of Lewis County, and others I have examined the general features of the claim made by him and others to property in England, known as the Townley Estate. In my opinion there is sufficient evidence that they are, and can probably establish that they are entitled to said estate, to warrant the employment of a competent person to investigate the matter, and thus ascertain whether their claim can be established or not by competent proof.

"

(Signed,) FRANCIS KERNAN


H. Stark, Verona,
R. W. Phillips, Utica, & others, Witnesses

ROCHESTER, July 5, 1870.

" Dear Sir: -In respect to the claim of Mr. Jasiel Lawrence, I have expressed the opinion that he is an heir to the Townley Estate, and the facts justify his expenditure of the necessary money to investigate and enforce his claim.
" " (Signed,) JOHN H. MARTINDALE,

Att'y at Law.


Late Attorney General of the State of New York and Military Governor of D. C.
Witness- J. W. Parker, East Pike, Wyoming. County, New York."

Mr. P. Keam, of Keaw &, Porter, Attorneys-at-Law, Cincinnati, under date of May 3,1875.says:-"I have spent a great deal of time and patience in examining the title and claims of the several claimants to the Townley-Lawrence Estate in England. There is no doubt in my mind but that the estate, worth several millions of dollars, is there awaiting the lawful claimants. From numerous letters received from parties who have made a study of this question, and who were suppose to be authorities, we condense as follows :- "The last lineal descendant of Townley Hall was Charles Townley, who died in 1805. Since his death the Hall has been leased three times by the government to collateral heirs of the Townley family. A late occupant was Col. Charles Townley, who died suddenly on Saturday morning, November 11, 1876. The deceased was born in 1803.

The estate known as the Townley Estate consists of four estates that have lapsed into one, namely -the Howard Estate, descended from Francis Howard (Lord Effingham), on which Corby Castle is located; the Standish Estate; the Widdrington Estate and the Townley Estate, near Burnley, in Lancashire. Corby Castle and the Howard property are said to rent for four hundred thousand dollars per annum. Townley Hall and the Townley Estate are said to rent for a like sum per annum. In the wills of the late occupants of Townley Hall no transfer is made of any part of the Townley Estate.' The Townley Estate passed into Chancery in the early part of the present century, and the first advertisement concerning it appeared in 1827.

The following copies of circulars are of interest in this connection :



CAUTION.



WHEREAS, printed circulars have been sent out purporting to give the proceedings of a meeting of the LAWRENCE COMMITTEE, held at the Merchants' Hotel, in Courtlandt st., New York, July 20th, 1857, in which my name is used as being Chairman, and assigning the proceedings of said Committee.I was not Chairman of any Committee when Thomas Mc-Dowell and Lewis P. Hunt were chosen as Agents to proceed to England, nor did I sign any proceedings of any Committee held there.
"Beware of the first fraud."

JAMES S. LAWRENCE,
Freehold, N. J .

JULY 31st, 1857.


At a meeting of the Lawrence heirs, held at the next of kin office,327 Broadway, New-York, this day, the following resolution was unanimously adopted:
" That the heirs present recognize MR. HENRY HAYS as the only legitimate means of reaching the object at which they are aiming."


JAMES S. LAWRENCE,


Chairman.


JULY 24th, 1857.


LAWRENCE- TOWNLEY ASSOCIATION.
DAYTON, 0., June 1, 1873.


As a person interested in the Lawrence-Townley estate, your attention is called to the fact that there has been a decision of the English Court of Chancery, by which three fourths of the sum of $380,000,000 has been awarded to the American heirs of Mary Townley. This vast property comes from Sir R. Townley, living about 1600, at Townley Hall, Lancashire, England. Mary Townley was heir to this immense estate. $260,000,000 has been awarded to her heirs in America, and as one of her heirs you are interested in the investigations of the following questions :

1. Who are the legal heirs of Mary Townley-Lawrence ?
2. What is necessary to do to establish said title or claim?
3. Can you establish your claim, or on what proof do you base your claim ?

We wish to impress upon you that no one but YOU can furnish your family history, consequently if you do not do it it will never be done. This is all that is wanting now. Will you do it? No other person has as much interest in your case as yourself. By furnishing us all the evidence you can obtain, as soon as possible, We may be able to supply any wanting links in your chain from other sources. But we can not do this without your help. Please forward to us as soon as possible a full family history of your ancestry as far back as you can give it- names, dates, &c. not supposed, but what yon can prove -and we will then place them, with others, in the hands of attorneys to arrange. Will you unite with us and give all the aid possible ? and there is no doubt about the successful result. It is a big undertaking, and can only be accomplished by united effort. If you do not desire to push your claim any longer, please notify W. L. Winchell, Corresponding Secretary of Lawrence-Townley Association, Dayton, Ohio, so that there may be no delay waiting for your proof. It may be a fortune to you to attend at once to this matter, but you alone must decide as to what you can or will do.

Respectfully,


W. L. WINCHELL,
J. D. FOX,
J. Q. A. COFFEEN.
Executive Committee.





THE LAWRENCE-TOWNLEY ESTATE.

NATIONAL BOARD OF DIRECTORS FORMED.


A Report of the Delegates to the Meeting, held at Buffalo, N.Y., Thursday, Feb. 3rd, 1876.


PROCEEDINGS.


A meeting of the delegates, representing the interests of nearly all the heirs to the Lawrence-Townley Estate, as also, the interest of the heirs to the Lawrence Estate proper; was held at Buffalo on the 3rd day of February, 1876, for the purpose of taking further action in prosecuting the claims to these vast estates. After organizing the meeting by electing S. S. Brown, of Perrysburg, President, and P. Ream, of Cincinnati, Secretary, the President stated that the object of meeting was to unite the interests of the several heirs into one common interest, under one body of Directors, so that the claims might be prosecuted more vigorously and harmoniously than had been done heretofore. D. B. Carver, of Albany, made a spirited speech, urging upon the Association the necessity of all members making a speedy compilation of their pedigrees, so that the case might be completed in Record evidence, before commencing action in the English Courts of Chancery. A full history of the organization and progress of the Western Branch of the Lawrence-Townley Association of Cincinnati, ,vas laid before the meeting by Dr. Shepherd, of Glendale, President, and P. Ream, of Cincinnati, the Counsel of the Association. After which the following resolutions were unanimously adopted.
lst. Resolved, That there be elected a National Board of Directors, consisting of seven members, five of whom shall constitute a quorum for the transaction of business; This Board to be clothed with authority from all parties interested in either of the estates, to perform such acts as in their opinion are necessary to raise funds to complete the records and pedigrees of the members, and to defray the expenses of a vigorous prosecution of the case to a final termination. The following gentlemen \were elected as members of the National Board of Directors :

Dr. SHEPHERD, Glendale, 0.
DAN. LAWRENCE, Reading, 0.
S.S.BROWN, Perrysburg, N. Y.
D. W. HAMMOND, Ontario, Canada.
FRED. WELLMAN, Cincinnati, 0.
CHARLES TINKER, Geneva, 0.
A. C. KINGSBURY, Watkins, N. Y.


2nd. Resolved, That the Board of Directors be empowered to elect delegates to procure Powers of Attorney and Releases from the heirs in both the United States and British Dominions; to draw up Articles of Association for the purpose of forming a Joint Stock Company, with power to issue Bonds, which shall be made in conformity with law, binding on all the heirs, for the purpose of raising funds to defray the necessary expenses in prosecuting the case; said funds to be used under the supervision and direction of the Board of Directors, in connection with their Counsel, and that they act with such Barrister or Barristers as may be retained by said Board, in the final prosecution of the case in England.
3rd. Resolved, That all papers, pedigrees, and Records of every description, and from all resources, shall be passed over to the National Board of Directors, to be used by them for their entire use and benefit, in completing the pedigree of any member who may be a contributor to the general fund, or for such other purpose as said Board may require. The Board may however give such a consideration for any valuable papers, as the)- shall deem just and equitable.
4th. Resolved, That all parties having an interest in either the Lawrence-Townley Estate, or in the Lawrence Estate, shall be entitled to the benefit arising from the genealogies or pedigrees already compiled, or that may hereafter be traced out by order 0( said Board; and that their interest shall be prosecuted without any additional fee further than may be required as a general assessment by the Board of Directors for the purpose of liquidating expenses.
5th. Resolved, That this meeting recommends to the National Board of Directors as Counsel, D. B. Carver, of Albany; George Day, of Troy; Gen. Durbin Ward and Peter Ream, of Cincinnati ; and such Barristers in England as may hereafter be decided upon.
6th. Resolved, That said National Board of Directors do meet for the purpose of carrying into effect the above resolutions, at as early a date as possible. The same to convene at a call from Dr. Shepherd, of Glendale, who is to act as President until the regular organization of the Board.
DR. SHEPHERD, Prest., Pro Tem. , P. REAM, Sec'y, Pro Tem.

The above Association, properly known as " The Western I., Association of the Lawrence-Townley Estate," had for the basis of its action the statement that Richard Towneley, who married Mary, the daughter of Lord Widdrington, had two daughters - Mary, who married John Lawrence, and Dorothy, who married Sir Francis Howard, afterward Lord Effingham ; together with the remainder of this story as given on a preceding page. On the strength of this statement, certain members of the Lawrence family residing in Cincinnati and vicinity, who had never devoted themselves to genealogical matters, were persuaded to form the above Association. The statement was entirely false, as I have shown in another part of this volume; and those ,who expended their time, money, and labor, to form this Association, were sadly imposed upon. The President, Treasurer, and Secretary of the above Association, as well as the late Dr. Coffeen, I knew personally as being men of strict integrity and honesty of purpose. Dr. Shepherd, President of the above Association, has devoted himself for many years to the work of ascertaining the truth, or falsity, of the American traditions; and when he found that it could not be obtained through the medium of the Association in question, he sought my services in 1884, and ,we have gone to the bottom of the matter, as will be seen in the following chapters.

The statement that Sir Richard Towneley who married Mary Widdrington, had a daughter Dorothy, is false. Richard Towneley, born in 1687 (grandson of Richard Towneley- and Margaret Paston), married, subsequent to 1710, the Ron. Lady Mary, daughter of William, 3cl Lord Baron Widdrington, a copy of whose will ( drawn March 26th, 169-! ) is in my possession. They had no child named Dorothy; and not being married until after 1710, they could have had no daughter Mary to marry any John or Joseph Lawrence in 1690. nor 1693. The brother- in-law of this Richard Towneley- was William, 4th Lord Baron Widdrington, who married for his first wife Jane Tempest. He was heir to the Widdrington estates. Towneley and Widdrington were implicated in the Rebellion of 1715, and were tried for high treason. Towneley was acquitted, although he deserved to be convicted. Widdrington was convicted, but escaped death through the influence of friends in the Royal Court.

He was, however, deprived of his honors, his real and personal estate was sold, and the amount realized, together with the rents and profits thereof, in all about $500,000, was paid into the receipts of the Royal Exchequer.

This left William Widdrington a poor man, and in 1722 [see Journal of the House of Commons ] Parliament granted " to William, late Lord Widdrington, the sum of £12,000 to enable him to live." William Widdrington died at Bath, England, in -1743, having married for his second wife a Mrs. Graham.
Richard Towneley died August 18th, 1735. I have a copy of his will, and there is no mention in it of any daughter Dorothy. His will was drawn February, 1731-2, and probated October 1Oth,1735. The only daughter he had was Mary Catharine, who married Thomas Hornyold, of Blackmore Park, County of Worcester, Esq., who died in 1762. She was not of age when her father died. The " Historical Register and Chronological Diary ," for 1729 (vol. 16, p. 34), reports the death of Mary Widdrington as follows: -" July 2d, 1729, Dy'd, the Hon. Mrs. Mary Towneley, " wife of Richard Towneley, of Towneley, Esq ., and sister of the " present Lord Widdrington."


There is not, and never was, any record of any marriage of a John Lawrence to a Mary Towneley, daughter of Richard Towneley and Mary Widdrington his wife. There is no record of the baptism of John and Jonathan Lawrence upon the Church Registers at Wetheral. I have visited Wetheral and Corby Castle, and the Corby estates do not, and never did, belong to the Towneley family. They are at present in the possession of one of the Howard family. Corby Castle is at present rented to Mr. E. Bebrens.

No John Lawrence with a wife Mary Townley, ever came to Massachusetts or Nova Scotia; and the Jonathan Lawrence who in 1738 married Hannah Robbins in Walpole, Mass., was not in any way descended from Richard Towneley and Mary Widdrington. The Lawrence family of England never resided at Ashton Hall, near Manchester. Ashton Hall, about 6 miles from Manchester, is in the village of Ashton-under-Lyne, and was the home of the Assheton, or Ashton, family. The home of the Lawrence family was Ashton Hall, about three miles from the city of Lancaster. A portion of the old building is still standing, but the property passed from the hands of the Lawrence family long ago. The last male heir was Sir Robert Lawrence, Knight, whose co-heiress Sibel married Thomas Hesketh, Esq., of Rufford. Ashton Hall passed into the possession of James Earl of Arran, in the latter part of the seventeenth century.

Mr. George W. Chase, of Olathe, Kansas, has for years asserted that he found in England a Decree of the Court of Chancery, issued in relation to a suit brought by Jonathan Lawrence and others, in 1827, to recover the estate of Mary Townley who married John Lawrence. Mr. Chase gives the date of the issuing of this Decree as 1829, and states that he has a copy of it. In a circular issued by Mr. Chase, August 31st, 1875, is the following: -"The great obstacle in the way was a lack of the date of the decision of the Court of Chancery. Within a short time I have obtained that, and can at any time after we get prepared, lay claim to it. There is but one place in England where it is recorded. " And in the same circular he says -" Above all the case was kept in Chancery for many years, and finally decided in 1829, which leaves us but a short time in which to present and prove our claim. The time is coming when I will publish, in circular form, the decision.

I have personally examined the ' Decrees and Orders of the English Court of Chancery, as well as Chancery Bills and Answers,' from 1640 to 1860, under the names of Lawrence, Chase, and Townley, and I assert that there is no such Decree in existence, and never was. In a letter dated November 30th, 1880, Mr. Chase writes as follows: -' John Lawrence married Mary Townley in Holland and came to America. I have full proofs with dates. This Mary Townley was daughter of Sir Richard Townley, the last male heir in direct line to inherit " the estate." Having " full proofs with dates " is, to say the least, putting it rather strong. Within the past two years and fully nine years after he had written that he had obtained the date of the decision of the Court of Chancery" - Mr. Chase writes as follows: -' Mary Townley was married in London, in a church. Her parents were present, so the story of her elopement is not correct." There is a wide margin between his two statements. I have also personally examined the Records of the English Church in the city of Hague in Holland, as well as the records of Nova Scotia, and they contain no entry whatsoever of the marriage of a John or any other Lawrence to a Townley, nor the birth of any children from such parents. In fact, the name of Townley is not to be found in the said records.

James F. Jaquess and George W. Chase have for years deceived the public by spreading broadcast the story above referred to, and asserting it to be the truth. When I turned the direction of my work from the Stephens family to the families of Lawrence and Chase, I found that the said story formed the basis for the greater part of the action that had been and was being taken by the descendants of the Lawrence and Chase families. Step by step I have searched for the facts, and have found that these statements were false to the core.

In 1880 Messrs. Lamphere and Usher of New York City began an investigation of the question herein dealt with. On his return to this country, from England, Mr. Usher issued his report to those for whom he had been working. I have never met Mr. Usher, but an examination of his report (in the light of my present knowledge) convinces me that he has worked not only intelligently but with an honesty of purpose; although he did not succeed in tracing to its true source the tradition that has been banded down for so many years in the Chase and Lawrence families.



CHAPTER IV.

REFERS TO THE MAIN LINE OF THE TOWNELEY FAMILY, OF
TOWNELEY HALL, NEAR BURNLEY, LANCASHIRE, ENGLAND.
CHAPTER V.

THE ROYLE AND LITTLETON BRANCHES OF THE TOWNLEY FAMILY.
CHAPTER VI.

ELIZABETH LAWRENCE ALIAS CARTERET ALIAS TOWNLEY, AND HER SON JOSEPH LAWRENCE, TOGETHER WITH SOME MENTION OF JOHN, THOMAS, AND WILLIAM LAWRENCE OF LONG ISLAND.


FROM Liber A of Deeds, p. 4, of Record at Jamaica, Queen's County, Long Island:
Entered at the desire of Mr Richard Smith &c. 30 March, 1681.

These presents Wittnes that whereas there is a purpose of joining in Marriage with Capt. Philip Carteret of New Jersey it is joyntly and fully agreed between him the aforesaid and me Elizabeth Lawrence late wife of Capt. William Lawrence of Flushing deceased -that I the aforesaid Elizabeth doe reserve liberty to give and dispose of all my right of land and meadow or housing within the Neck called Tews Neck unto any of my sons whom I shall see good and that no engagement whatever shall impead this agreement.

ELIZABETH LAWRENCE.


Wittneth
RICHARD SMITH
SARAH L. SMITH mark
ABIGAIL NICOLLS

Copy of the Will of Elizabeth Townley, of Record in the office of the Secretary of State, Trenton, New Jersey

" In the name of God, Amen, I Elizabeth Townley, the relict of Collo: Richard Townley of Elizabeth Town in ye County of Essex & Province of New Jersey, D: s'd, do think fit to make this my last will & testament in manner and form following I do give my Soul to God, hoping for Salvation, thro' ye merits of my Lord and Saviour Jesus X't& my body to ye Earth to be decently buried in hopes of a glorious Resurrection at ye last day & as for my temporal goods, I dispose of them. as followeth Imprimis I give unto my daughter Sarah Shackmaple all the furniture of ye room, in which I now lye, viz't, The Bed CurtainS & Cloathes & every thing belonging to it, a chest of Drawers, a Small Table & a glass; with the Chaires, I likewise give. her two other Elbow-Chairs, covered with ye same sort of stuff, wch is in ye Curtains of ye sa,id Bed. Item, I give & bequeath all my estate, Goods & Chattels wtsoever that is mine, or ought to be mine, unto my son Charles Townley, his Heirs & Assignes, excepting half my plate, wch I give to my son Effingham tovards ye paymt of debts, & I charge & comand my son Effingham to be just to his brother Charles by granting him forthwith after my death a confirmation under his hand & seal for that land wch he knows his Father designed him; I do hereby constitute, authorize and appoint my dear son Charles to be sole Executor of this my last will & Testament, revoking and making null & void all other wills & Testaments by me heretofore made, either by word or in writing. In Testimony Whereof I have hereunto set my hand and seal this eight day of March in ye Tenth year of ye Reign of Anne over great Brittaine, ffrance & Ireland Queen &c Annoq Dom 1711-12.



The mark of
Elizabeth Townley L. S.


Signed, Sealed, published & declared by ye

Testatrix to be her last Will & Testament in ye presence of us:


EDWARD VAUGHAN, DEBORAH LAWRENCE, MARGARET WILLOCKS.
" Memorandum yt part of ye twelfth & thirteenth line was blotted out before ye signing & sealing of this Instrumt."



The second husband of the above lady was Sir Philip Carteret, of the Isle of Jersey in England, who was first governor of the Province of New Jersey in America. He drew his will Dec. 10,1682, which was proved the same month. In this will he gives his mother, Madame Rachell Carteret, all his houses, lands, et cetera, in the Isle of Jersey, for her use during her life, and at her decease to be divided among his brothers and sisters. He gives to my most dear and loving wife " all his houses, lands, et cetera, in New Jersey , unto her and her heirs forever,' and makes his dear wife his sole executrix. (See Liber A or 5 of Deeds, p. 17, Trenton, New Jersey.)

The maiden name of Elizabeth-Lawrence-Carteret- Townley was Smith. She was a daughter of Richard Smith, the patentee of Smithtown, L.I. She married for her first husband Capt. William Lawrence of Flushing, L.I., and had by him, among other children, Joseph, who, it has been said, married a Mary Townley. There is no evidence to show that such a marriage ever took place.

In Liber H 2 of Deeds, p. 3-18, in Trenton, New Jersey, appears a deed signed by Joseph Lawrence, who deeds to Joseph Bonny of Woodbridge certain lands in East New Jersey. In this deed the grantor describes himself as " Joseph Lawrence of Flushing, in Queen's County in Nassau Island and Province of New Yor.k Gent. eldest son of Elizabeth Lawrence alias Carteret alias Townley deceasd of Elizabeth Town in the Province of East New Jersey.' This deed was drawn May 3, 1735, and Recorded June 26, 1755 by Affirmation of Daniel Lawrence being of the people called Quakers, , who was one of the witnesses.

From the fact that widow Elizabeth Lawrence became the wife of Sir Philip Carteret in 1681, the year after the decease of her first husband, and that, a short time after the decease in 1682 of her second husband, she married Richard Townley (who did not die until the latter part 0f 1707), it seems reason,.. able to suppose that her children nee Lawrence, who were still young, lived with her in the home of her third husband, and grew up with the children nee Townley of this third marriage. As it was quite natural that Richard Townley should have christened his eldest son Effingham, in remembrance of his friend Lord Howard, Baron of Effingham, in whose suite he came to America, it follows quite as naturally, that, out of regard for Effingham Townley, his Christian name should have been given to the grandson of his half-brother, Joseph Lawrence, and have come down through successive generations of both families.

The descendants of Joseph Lawrence, because Effingham has been used as a Christian name in their family, have looked upon that fact as of much importance in support of their tradition that their ancestor married Mary Towneley, daughter of Sir Richard Towneley of Lancashire, as they have believed that Dorothy Towneley (sister to Mary) married Francis Lord Howard, Baron of Effingham, which was not the case, as is shown below.

The following, from Holgate's American Genealogy,' forms the basis for the numerous traditions prevalent among the descendants of William Lawrence that his son Joseph married a Mary Towneley in 1690: -"Joseph Lawrence of Flushing, Long Island, in 1690, married Mary Townley daughter of Sir Richard Townley, son of Charles Townley who fell at Marston Moor. At the Restoration he was under the necessity of selling a very valuable estate at Nocton, near Leicester, in consequence of losses sustained by Sequestration. His daughter Dorothy, the younger sister of Mary, married Francis Howard of Corby afterward Baron Howard of Effingham, and who on the 8th of December, 1 781, was created 1st Earl of Effingham. He died 1743."

In the preceding there is no room for doubt as to which Sir Richard, Mary and Dorothy Towneley, are referred to. In Chapter IV. I have shown that the said Richard Towneley had no daughter Mary living in 1685, and consequently could have had no daughter Mary in 1690 to have married Joseph Lawrence. And particularly so since his, the said Richard's, wife, died in 1672.Dorothy Towneley referred to in the above extract was the second wife of Francis Howard, Esq., of Corby : -"Captain of a Regiment of Foot and sometime Governor of Carlisle. Born 29 June 1635, died Dec. 17, 1702, buried at Wetherel." -Monumental Inscription.

Dorothy his widow died 13 Dec. 1712. Said Francis Howard was never created Baron of Effingham, nor did he leave any male issue. And yet, on the statement published in Holgate's American Genealogy," hundreds of people have been led to believe that the descendants of the said Joseph Lawrence were also descended from the main line of the Towneley family of Lancashire. Neither John nor Joseph Lawrence ever married Mary Townley who was sister to Dorothy Towneley. Neither John nor Joseph Lawrence ever married Mary Towneley, daughter of Sir Richard Townley and Mary Widdrington. There is not an iota of evidence to show that the said Joseph Lawrence married a lady whose maiden name was Mary Towneley, either in the latter part of the seventeenth, or in the early part of the eighteenth, century; but there is an abundance of proof to show that there was no Mary Towneley belonging to the main line of the Towneley family at that time whom he could have married.

John, Thomas, and William Lawrence of Long Island were brothers from St. Albans in Hertfordshire, England. They came to this country in 1635 in the ship Planter, Nicholas Trarice commander; and it has been supposed that the maiden name of their mother may have been Towneley. Such supposition I know to be erroneous, as I have not only a copy of the record of the birth of each of the said brothers, as well as a copy of the record of the birth and marriage of their parents and grandparents, but also the coat-of-arms , of their mother's family.







CHAPTER VII.

REFERS TO LAWRENCE, CHASE, AND OTHER FAMILIES HAVING THE TRADITION THAT ONE 0F THEIR ANCESTOIRS MARRIED A LADY TOWNLEY.


[ See John Lawrence of Wisset for a complete GEDCOM file on the below family]


I COME now to the families of Experience Lawrence who married Jabez Keep of Westford, Mass., and Tryphena Lawrence who married her cousin Jonas Lawrence of Canaan, Conn.

The descendants of the above have for many years believed that they were from the Towneley family through one Jonathan Lawrence who was son to John Lawrence and Mary Towneley, daughter of Sir Richard Townley, and sister to Dorothy Towneley of Lancashire.

I have already shown that no John, or any other Lawrence, ever married Mary, sister to Dorothy Towneley ; and this fact alone destroys the truthfulness of their family tradition.

But, as I have traced step by step the pedigree of the said Experience and Tryphena Lawrence, it may not be out of place to refer to it in brief in this connection.

Will of Major Eleazer Lawrence. Of Record in Liber 27 of Wills, p. 270, Cambridge, Mass. :

"In the name of God Amen the twenty ninth Day of December and in the year of our Lord one Thousand Seven Hundred and forty nine I Eleazer Lawrence of Littleton in ye County of Middys in New England Gentm Being of Perfect mind and memory but calling to mind the mortality of my Body and knowing that it is appointed for men once to Die Do make this my Last Will and Testament that is to say first of all I Recomend my soul in to The hands of God that gave it hoping through the merits of Jesus Christ to have free pardon of all my sins and to Inherit Etarnal Life and my body I commend to the Earth to be Deceantly Buried at ye Discretion of my Executors hereafter named and as Touching such Worldly estate wherewith God has Bestowed on me I Dispose in Manner and form as follows, Itn. I give and Bequeth to Mary my Dearly Beloved wife allimony and Bonds & nots for money due to me at my Decease and all ye Household Goods waring apparil and Cattle to her & her heirs and assigns forever and also Improvement of the house Barn and Lands That I shall Dye seazed off, During her life, she paying my just debts & funeral charges. Itn. I give and bequeath to my five sons vis. to my son Pelag Lawrance, Jonathn Lawrance, David Lawrance, Eleazer Lawrance, and Samuel Lawrance to them and their heirs & assigns the sum of Five shillings in money to each of them with what I have given to each of them by Deeds to be the full of their Portion out of my estate.
Itm I give to my Daughters viz to ye heirs of my Daughter Elisabeth Buttrick Decead twenty shillings in money & to my Daughters Mary Fletcher, Sarah Cumings, and Experance Keep, Prudence Parker and to each of them or their heirs the sum of twenty shillings in money with what they have received before is to be the full of their portions out of my estate all which Legases to be paid unto them or their heirs in one year after my Decease by my executors hereafter named hereby I Do constute and appoint my wife abovsd and my son David Lawrance to be my Executors of this my Last will and Testament Disallowing all others aforemade by me. In witness whereof I have set my hand and seal the Day and year above the words & Bonds & nots for money interlined before signing.

ELAZA LAWRANCE [SEAL ]


Signed sealed published and Declared to be ........................... WILLIAM LAWRENCE
The last will & Testament of Eleazer Lawrance ....................... NATHANIEL BOYNTON
In the Presence of: ................................................................... JOSEPH BOYNTON





Of Record in the same office: --
"Littleton December ye 19th 1754 To the Honourable Saml Danforth Esqr Judge of Probate for ye County of Middlesex may it Please your honour We the Subscribers being the children of our Honoured Father and Grandfather major Eleazer Lawrence Late of Littleton Deceased We hereby give our consent that ye Will of our said Father and Grand Father should be Proved and a Proved; and Disire your Honour would alow of the same: and whereas there is some small estate Left by our father not Disposed of by will we Disire therefore that our aged mother may be allowed to take administration and that the Improvement of the whole may be settled upon Her During Her life."

PELEG LAWRENCE................................................ JABEZ KEEP
DAVID LAWRENCE............................................... EXPERIENCE KEEP.
ELEAZER LAWRENCE........................................... JOHN CUMINGS
SAMUEL LAWRENCE........................................... SARAH CUMINGS.
BENJA. DAVIS....................................................... PETER P ARKER
SARAH DAVIS....................................................... PRUDENCE PARKER.
ISAAC RUSSELL.
MARY RUSSELL.


The said Honorable Samuel Danforth January 13, 1755 granted Letters of Administration unto Mary the widow.

The above shows conclusively that Experience Lawrence, who married Jabez Keep, was the daughter of Major Eleazer Lawrence of Littleton, Mass., and not the daughter of Jonathan Lawrence, son of John Lawrence and Mary Townley. Major Eleazer Lawrence was born in Groton, Mass., Feb. 28, 1674.
When Littleton was set off from Groton, he became a citizen of Littleton; and his name appears in the records of that town as one of the original landed proprietors. He was a son of Peleg Lawrence, who was born January 10, 1646-7, in Watertown, Mass., and who married, about 1667, Elizabeth Morse, and settled in Groton, Mass. The grandfather of Major Eleazer was John Lawrence of Watertown, Mass. [1st wife, Elizabeth -; 2d wife, Susannah, danghter of William Batchelder of Charlestown, Mass. ] ; removed to Groton, where he died, July 11,1667.
Major Eleazer Lawrence married Mary, daughter of Samuel and Elizabeth Scripture of Groton; born Feb'y 7, 1680, by whom he had the following children:


Eleazer, date of birth unknown.
Elizabeth, born Feb'y 28, 1699
Peleg, born June 1,1701
Jonathan, born Oct, 4,1703
David, born Dec. 26, 1705.
Mary, date of birth unknown.
Sarah, date of birth unknown.
Samuel, born May 2, 1714.
Experience, born June 22, 1719
Prudence, born April 7, 1722.
Of the above, Eleazer married, June 25, 1731, Lucy Tuttle, by ,whom he had (among other children) Simon, born January 11,1739, from whom some of the Walker and Adams families descend.

Jonathan married Tryphena Powers (his first wife), by whom he had Tryphena, born Sep. 26, 1735, who married Sep. 3, 1754, her cousin Jonas, son of Isaac Lawrence of Canaan, Conn., and died in West Stockbridge, Mass., Jan. 31, 1795, whose descendants, living in Tioga County, New York, and Bradford County, Penn., have spent a large sum of money in the vain endeavor to prove themselves descended £rom a Jonathan Lawrence, son of a John Lawrence and Mary Townley. The Jonathan Lawrence who was their ancestor is clearly, shown in the above.

Experience married at Westford, Mass., April 3, 1740, Jabez, son of Samuel and grandson of John Keep of Springfield, Mass. It will thus be seen that Experience Lawrence who married Jabez Keep in 1740, was aunt to Tryphena Lawrence, wife of Jonas, and daughter of Jonathan.

It is to be regretted that a few of the descendants of Experience Lawrence have insisted that the will of their ancestor Major Eleazer Lawrence is a forgery, and that the late Honorable Abbott Lawrence, while Minister of this Republic to the Court of Great Britain, caused certain gravestones to be taken from the graveyard at Groton, and transferred to England, by means of which he secured to himself, through parties in England. a large sum of money. This ridiculously false statement would not find a place here were it not for the fact that a few have influenced many to believe it to be the truth. Any one with the smallest degree of knowledge of genealogy and records will, without any hesitation, admit the validity and genuineness of the documents above quoted, if they will only take the trouble to examine them in the Probate Office of Cambridge, Mass., where they are of record, and constantly under the custody of officials.

The Rev. John Lawrence of Cambridge, Mass., has compiled a most excellent genealogy of the descendants of John Lawrence of Watertown.

In addition to those mentioned, there are several other branches of the Lawrence family who have had the same Lawrence-Townley tradition. The majority of these can be traced either to John, Thomas, or William Lawrence of Long Island, or to John Lawrence of Watertown, Mass. The Kentucky branch of the Lawrence family, however, trace their pedigree to Levin Lawrence[ Leven (?) the signature to his will is Levin ] who married Susannah, daughter of John and Honor Dorsey of Maryland. She was born Dec. 12, 1717. Levin Lawrence died between April and September, 1756, and was probably buried in the graveyard upon the north side of the old Lawrence homestead, about twelve miles southwest from Ellicott City, Howard County, Maryland. The house of Levin Lawrence, built in 1741, was still in good preservation when I visited it some five years since. One of the descendants of Levin Lawrence residing in Louisville, Kentucky, has the following coat-of-arms that has been handed down from generation to generation. "Argent, a cross raguly, gules, crest, two laurel branches vert, forming a chaplet," which implies a descent from the Lawrence family of Lancashire, England.

On the maternal side the following is their traditional genealogy:

"According to the traditions of the family three brothers, Edward, Joshua and John Dorsey (or D' Arcy, as they were more frequently called in the early State Records,) emigrated from Ireland and settled in Maryland not long after its colonization, The first appearance of the name was in 1660, when a tract of land called 'The Bush' containing four hundred ' acres, lying near Chesapeake Bay and the mouth of the Severn River was granted to Edward D'Arcy, In 1664 there was granted to Edward, Joshua and John D' Arcy two thousand acres of land lying on the Severn River, not far from where the city of Annapolis now stands, A part of this Tract called 'Hackley in the Hole' remained in possession of John D'Arcy's descendants from 1664 to 1829. John D'Arcy married a lady whose Christian name vas Pleasance but whose surname is unknown, She survived her husband and married secondly Thomas Wainwright. John D'Arcy died in 1714 after having acquired a very large amount of real estate, most of it from Grants of the Lords Proprietary of Maryland many of his Surveys being at the present time among the most valuable lands in Anne Arundel County. He served for many years as a Burgess in the General Assembly. He had three children, Caleb, Edward and Deborah, Edward died in the lifetime of his father, leaving Edward and John.[?]
Caleb married Eleanor Warfield and died at an advanced age leaving a large property, as well as a large family.
John, son of Edward married Honor --- whose daughter Susannah married Levin Lawrence,"


The Towneley Arms are quartered with those of D'Arcy, as is of record in the College of Arms, London. It is possible that the descendants of Levin Lawrence through the family of Dorsey, or D'Arcy, may be descended from the Townley family, The descendants of Levin Lawrence are among the best citizens of Kentucky; and, while engaged in tracing their pedigree, they assisted me in my search by every means in their power.

Another Lawrence family, not heretofore mentioned, descends from Thomas Laurenzen, who married, June 9, 1663, Marritje Jans (widow of Cornelis Van Langvelt), and have also had the tradition of a Lawrence-Townley alliance. But the members of this family now living are convinced that such a tradition had no foundation in fact.
Thomas Laurenzen above was from Groningen in Holland; and, upon his admission to the Dutch Church in New York in 1662, he was styled "Thomas Laurenzen, Popinga" which has puzzled his descendants of the present generation. His son, Baptized Laurens Thomassen, married May 10, 1687, Catharine Lewis. She died Sep. 15, 1702, and her descendants are scattered throughout the States of New Jersey, New York, Pennsylvania, Indiana, and Ohio. Thomas Laurenzen belonged to the family of Adolphus Laurens, who in 1660 was Registrar and Burgomeister of Groningen in Holland, and who used a seal similar to the one now in possession of the descendants of the said Thomas.

Hannah Lawrence [see William Lawrence line] of New Jersey, who, December 8, 1771, married Richard Chamberlin of the same State, and Elizabeth Lawrence, who, July 26 1756, married David Olden, both of New Jersey, were descended from an ancestor totally distinct from any heretofore referred to, who came to this country about the middle of the seventeenth century. The same Lawrence-Townley alliance has been of tradition in this family, but without foundation.

There was a Joseph Lawrence [see Wisset line] with wife Mary living in Plainfield, and Killingly, Conn., in the early part of the eighteenth century. Said Mary survived her husband, and drew her will March 7, 1765 which was proved April 10, 1769. In it she mentions her daughter Mary and her grandchildren "Rachel Lawrence, Abigail Cady, Experience Williams, Relief Lawrence, Sarah Williams, Barcilla Gallup, Joseph Lawrence, Thomas Lawrence and Josiah Lawrence to eac of them a bible." Her daughter Mary married for her first husband Lemuel Dean, and after his decease she married John Williams, through which marriages the same Lawrence-Townley-marriage story has found its way into Warren, Williams, and Dean families of New England and the West. The said Joseph Lawrence of Plainfield, Conn., and Daniel Lawrence of Killingly,Conn. (whose descendants, have had the same story), are probably descended from John Lawrence of Watertown, Mass.

The descendants of Jacob Lawrence and of Timothy Tallman of Fishkill, N.Y., have the same story. These families, as well as the Willett family, descend from one of the three immigrants, John, Thomas, or William Lawrence, of Long Island, and none of their ancestors married Mary Townley.

The Mackoy family of Kansas have had this same story with, the variation that Mary, daughter of John Lawrence and Mary Townley, married their ancestor Charles Gresham, with whom she lived in King William County, Va.; and that a daughter born of this marriage became the wife of ,their, great-grandfather, which is entirely a mistake.

Others of the Lawrence family, living in Massachusetts, Nova Scotia, and the Canadas, who trace their pedigree to Richard Lawrence of Richmond County, N,Y., have the same story, namely, that he married Mary Townley of Lancashire, which is also erroneous.

The descendants of Thomas, William, and Aquilla Chase have likewise been enthusiastic in the belief that it was one of their ancestors who married Mary, daughter of Sir Richard Townley of Lancashire. They have been encouraged in this belief by designing men, and they do not descend from any of the Townley family. I cannot show any proof that Thomas, William, and Aquilla Chase were related to the grandparents of Richard Chase who married Margaret Townley, as I have not devoted my time and labor in that direction; but it is a likely supposition that they were so related, and that thus has come down to the present generation the tradition of the marriage of Lady Townley with one of their ancestors, together with the tradition of an estate in England belonging to them in consequence of such marriage.
From the preceding, the reader will note that the tradition of the marriage of Mary Townley of Lancashire to a Lawrence and a Chase (which I have shown to be false), has found its way into a number of families in this country. It is probable that the first interest in a property in England, belonging to a Chase family of America, began in 1735, when the will of Francis Townley (see pedigree, branch D) was contested by his sister Honor Hodgson, and other members of his family. Jeremiah, the father of Margaret Townley, who married Richard Chase, was only brother to the said Francis; and although Jeremiah was dead at the time of this suit, the property of his brother Francis, a part of it at least, should have descended to his daughter and only child, instead of falling to an entire stranger.

It is also probable that in 1796, when the properties of Royle and Greenfield, for want of an heir male, reverted to Anne Townley, who married Robert Parker, the descendants then living of Col. Richard Townley of New Jersey, and of Margaret (Townley) Chase of Maryland, as well as of Joseph Lawrence of Long Island, became somewhat excited over the event, and that such excitement extended to the various branches of the Lawrence and Chase families of America.
A new interest may have been aroused when; on Tuesday, June 11, 1822, "The London Times "printed the following:
"Parliamentary Intelligence, House of Commons Mon. June 10. Sir Robert Wilson said that a certain sum of money had been left by a Col. Townley for the benefit of widows of certain officers. He wished to know why the testators Will had not been yet carried into execution though the testator had died some years ago. Sir Charles Long said that the £10,000 had been left to the Secretary at War for the widows of Captains, lieutenants, & ensigns, but that it had been necessary to take legal opinion as to the mode of proceeding; and the result ,was that certain formalities must be gone through which required all the time that had since elapsed."

It has been frequently stated by parties in America that "The London Times" had years ago referred to a Townley estate dealt with by the House of Commons.
The above is the only reference, that I have been able to find, in support of such a statement, for which reason I have quoted it.

It has grown to be a nuisance to our foreign representatives in London, that they are constantly receiving letters about some estate that the writers fancy themselves entitled to.
If the writers of such letters would only think before doing so, they would discover that the United States of America does not allow its representatives abroad any time or latitude for attending to such business.

There are also many who think they are entitled to money in the Bank of England. The Bank of England has under its control millions of dollars in unclaimed dividends. Now, suppose a person has good grounds for believing that he is entitled to a portion of these dividends; then the proper course to be pursued is for him to trace his pedigree to the one from whom he claims descent. If such pedigree is approved by the "College of Arms in London, then the matter can be brought before the Court of Directors of the Bank of England, and the money can be obtained.

I cannot close this volume without referring in brief to an opinion, that has taken hold of the minds of many, that some of my predecessors have been bought off from giving the heirs the true facts in the case. I undertook the work I have performed for the purpose of discovering if there were any grounds for the American traditions, and with a determination to carry it through to a finish, and present the actual facts to the public. Of course I labored hoping for a financial reward, which I have not obtained; and I can assure my readers, that any insinuations that either my predecessors or myself have been bought off, are as false as they are base.

In closing I wish to thank each and everyone who have in any way aided me in my efforts; and, if the facts which I have collected with much labor will prevent the public in future from paying any attention to the statements that I have shown to be false, I shall feel that my work has not been entirely in vain.

NOTE. -Those of the descendants of Robert and Mary Stevens (as well as their representatives) who have aided me in my work, will receive a copy of this book free gratis.
Those descendants of Col. Richard Townley, of New Jersey, and those descendants of Margaret (Townley) Chase, of Maryland, who have deeded to Dr. Alfred Shepherd and myself, will receive a copy of this book free gratis.

To all others, the price of this book, with the pedigrees, will be $4 per copy. For the book, without the pedigrees, the price will be $3 per copy. For the pedigrees alone, the price will be $2 each. Address the author, P,O. Box No. 1912, BOSTON, MASS..

---